What is a feature?
A feature is a longer piece of writing than a news story. It is everything that is not a news article. Features come in many different types and are widely used in magazines, newspapers and online.
A feature will often cover an issue in greater depth than a news story would do; or it might look at an ongoing story from a different angle.
News Story v Feature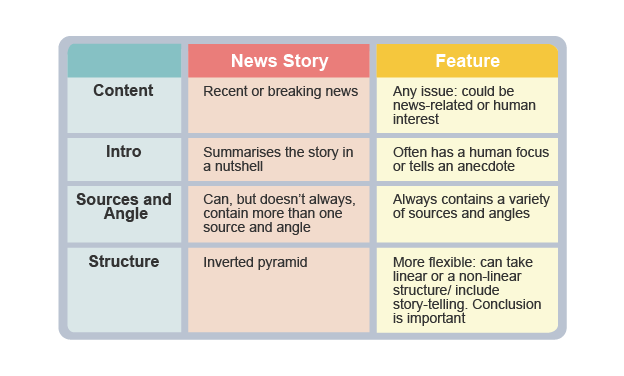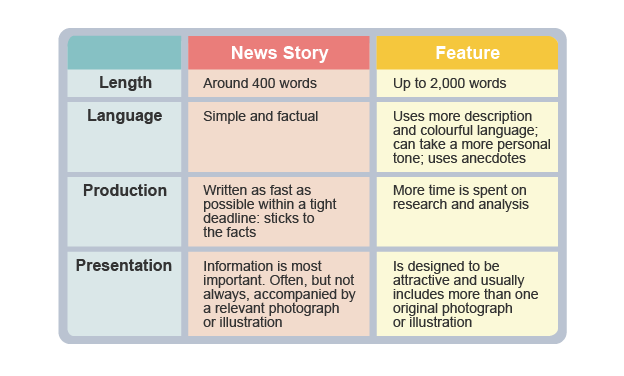 A feature is also thematic, it needs to be shaped around a central theme. It needs to be interesting and finely focused. A feature will have an element of topicality, a Peg which is relevant and up to date e.g. the birth /death of someone famous, book/film launch etc.
Features are not meant to deliver the news first hand. Their function is to humanise, to add colour, to educate, to entertain, to illuminate. They often recap major news previously reported.
Features often:
profile people who make the news
explain events that move or shape the news
analyse what is happening in the world, nation or community
teach an audience how to do something
suggest better ways to live
examine trends
entertain
Types of feature
Personality profiles– bring an audience closer to a person in or out of the news. Anyone who's interesting and newsworthy. Behind-the scenes look, warts and all.
News feature a feature article that focuses on a topic of interest in the news. Tend to focus on the people in the stories. e.g. heart disease in the news would focus on facts and stats whereas in a feature maybe come from individual perspective, their struggles etc.
Spot feature focus on breaking news events. Sidebar to main news focusing on certain aspects of the event.
Human interest stories– shows a subject's oddity or practical, emotional or entertainment value.
Trend stories– examines people, things or organisations that are having an impact on society. What's new, fresh and exciting. Light, quick, easy to read, capturing the spirit of whatever new trend is being discussed.
In-depth or Live-In– through extensive research and interviews provide a detailed account of a particular place and associated people…e.g. homeless shelters, camps, hospitals, prisons etc.
Backgrounder/analysis piece adds meaning to current issues in the news by explaining them further. Bring an audience up to date explaining how a country, organisation, person happens to be where it is now.